Ian Brennan | Global Collection
Ian Brennan (pronounced eye n) is what I call a visionary troubadour of authenticity and will seek it out and usually record it wherever he goes. A Grammy winning producer & author Ian has blossomed his love of travel & the hunt for unique & profound sounds /voices into a total family affair. Along with his wife/ Filmmaker Marilena Delli and daughter off they go to the far reaches to capture something worth listening to or looking at.
If you are to listen to these incredible moments that he's captured over the years (even for a few seconds) you'll quickly understand why me trying to verbally convey what it's been like for me to work on or mix these projects of his would be a disservice to the projects themselves & to the people who are on em.
What I will say is that Ian first came to me by the (stay at home bomb) Lysa Flores to work on her record " Bring Your Love " (referred by DJ Bonebrake from the Knitters, X, Flesheaters, Moreman Bonebrake & others) and then to get my friend Carlos Guitarlos to sing on Peter Case's " Let Us Now Praise Sleepy John " record in which Carlos sang on & I mixed & Ian produced. That record was nominated for a Grammy in the Traditional Folk category & was my first inclusion on a Grammy nominated project. That project also opened the door to then working with Peter on multiple projects that he produced as well as others in which he played or sang on.
My Enrichment meter is off the charts because of Ian and those who got him to me are ultimately responsible for it. I sincerely thank all of you.
More info on his album "Witch Camp". 
Politics & Prose: Witches & Witch-Hunting in the Modern World
Album Spotlight | Peter Case "Let Us Now Praise Sleepy John"
Produced by Ian Brennan
 Mixed (& additional recording of Carlos) by Craig Parker Adams
Featuring: Lysa Flores, Carlos Guitarlos, Duane Jarvis, Richard Thompson
2007 Grammy Nominated Traditional Folk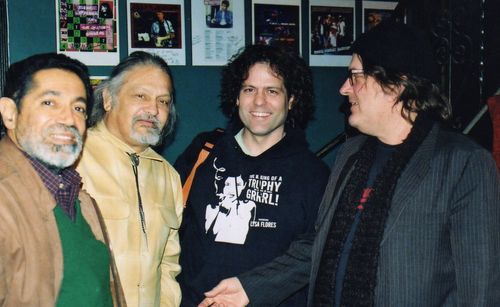 Behind the Scenes | Photography by Craig Parker Adams
Lysa Flores | Bring Your Love