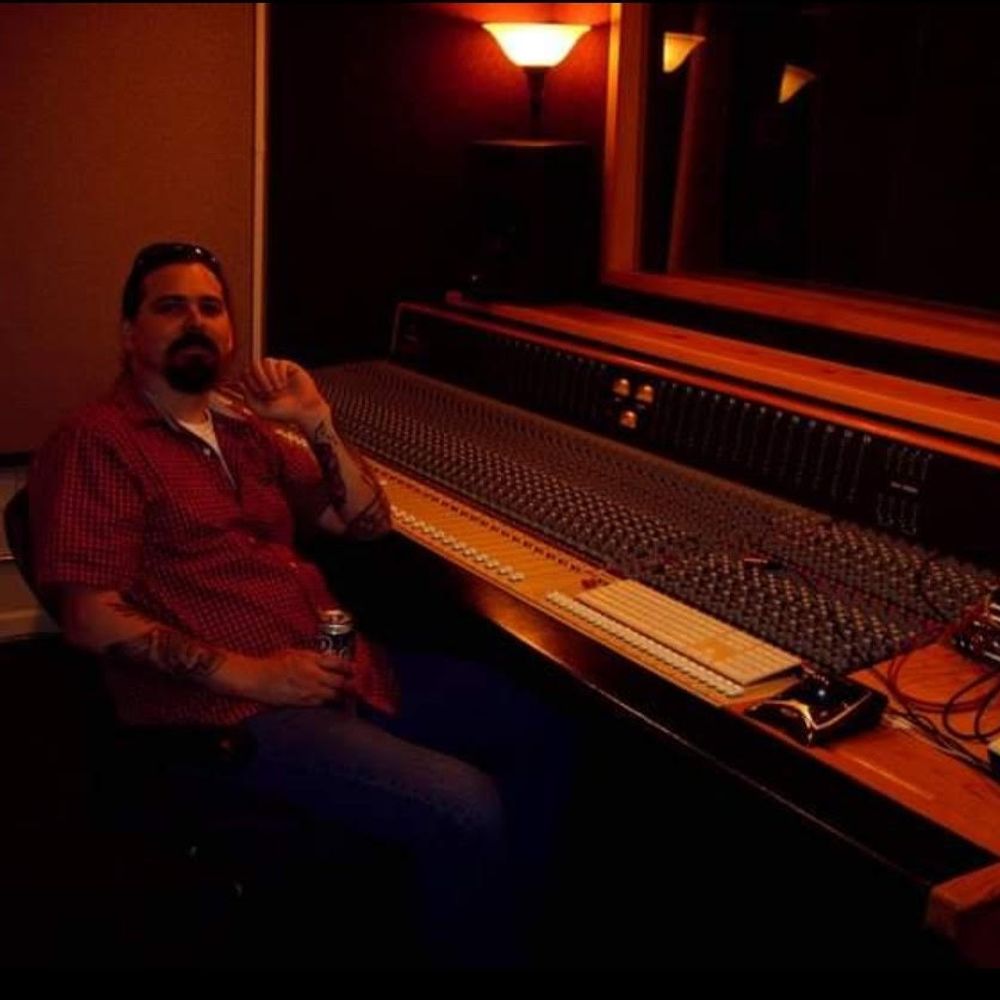 here's rich at his river city recording in northern california
Rich Ayres is my friend and an important EARLY studio engineer influence / mentor for me in my life. Rich was (forgive the pun) instrumental in instilling the confidence for me to give it a go as a recording studio business owner / engineer producer.

When I first met Rich he had already had a lot of experience in high end studios producing & engineering as well as working with some amazing artists & session musicians the likes of Johnny Barbata from Crosby, Stills, Nash & Young as well as members from The Doobie Brothers & many others. We worked together at the same music company for a while and even lived as neighbors in the same apartment building in Hollywood. As a fellow guitar player, we'd have lots to talk about and ultimately it was Rich who turned me on to how to slave amp heads and the benefits thereof. He was just a talented wealth of super cool knowledge & then one day we started getting into catalog shopping of studio gear like preamps & compressors & the like and that opened up the whole thing.
I already had my historic recording studio space at that time that I was using for my own musical purposes and I already had an interest and some experience in the art of recording so it was just a natural process. Rich would point out some piece of gear & we'd drool over the prospect of owning & using it. My very first preamp that I still use to this day & consider to be my main go to preamp was one of those catalog pics that Rich pointed out to me. I knew I would get one some day & I knew it would be perfect. I just knew… and that is exactly what I did. I bought that preamp back in 1998 & it's been used on thousands of sessions & hundreds of records, Billboard #1s, Grammy wins & nominations and it NEVER let me down. No regrets with that " sexy " preamp. ( that's how Rich originally referred to it from the catalog )
It was Rich's delicate ear that thrived on harmony and the tighter details of creating and capturing a song or track that was an important early influence on me both technically and musically. I can say that whether I'm working on a Frank Zappa or Dave Alvin record or doing sessions with artists like Gaby Moreno, Van Dyke Parks, Steve Jones or Val Kilmer or engineering greats like Geoff Emerick, Mark Linett, Al Schmitt or Roy Thomas Baker is that Rich is a part of all of that for me because he took the time to help nurture me so that ultimately I too could also do it and I am so grateful for that and I thank you so much Rich!
Rich has his own recording studio business up in Northern California called River City Recording located in Forrest Hill and I highly recommend him, his abilities and services for heart felt excellence captured and delivered in the most efficient way. It does not matter if you can't make it to him locally. He can work with you pretty much wherever you are located just reach out.